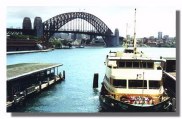 The Sydney Harbour Bridge is one of Sydney's most famous landmarks. Completed in 1932, the construction of the bridge was an economic feat as well as an engineering triumph. Prior to the bridge being built, the only links between the city centre in the south and the residential north were by ferry or by a 20 kilometre (12½ mile) road route that involved five bridge crossings.
The Sydney Harbour Bridge, which is known locally as the "Coat Hanger", took eight years to build, including the railroad line. The bridge was manufactured in sections on a site that is now occupied by Luna Park funfair.
Construction on the bridge began in December, 1926. The foundations, which are 12 metres (39 feet) deep, are set in sandstone. Anchoring tunnels are 36 metres (118 feet) long and dug into rock at each end. Construction on the arch began in November, 1929. It was built in halves with steel cable restraints initially supporting each side. The arch spans 503 metres (1650 feet) and supports the weight of the bridge deck, with hinges at either end bearing the bridge's full weight and spreading the load to the foundations. The hinges allow the structure to move as the steel expands and contracts in response to wind and changes in temperatures.
By October, 1930, the two arch halves had met and work then began on the deck. The deck is 59 metres (194 feet) above sea level and was built from the center out.
The Harbour Bridge was officially opened on 19 March 1932. The total cost of the Bridge was approximately 6.25 million Australian pounds ($A13.5 million), and was eventually paid off in 1988. The initial toll for a car was 6 pence (5 cents) and a horse and rider was 3 pence (2 cents). Today the toll costs $2.00. The toll is now used for bridge maintenance and to pay for the Sydney Harbour Tunnel. The annual maintenance costs are approximately $5 million. More than 150,000 vehicles cross the bridge each day.
The bridge was built by 1400 workers, 16 of whom were killed in accidents during construction. Painting the bridge has become an endless task. Approximately 80,000 liters (21,000 gallons) of paint are required for each coat, enough to cover an area equivalent to 60 soccer fields. Before Paul Hogan (from the movie Crocodile Dundee) became famous, he worked on the Sydney Harbour Bridge as a painter.
Recommended for all visitors to Sydney is the Pylon Lookout. Inside the Lookout is a fascinating display on how this bridge was built. Entry to the Pylon is from the pedestrian walkway on the Harbour Bridge. You can get to the walkway via the stairs in Cumberland Street, The Rocks, or from near Milsons Point Station on the north side. The Pylon Lookout is open every day except Christmas Day.